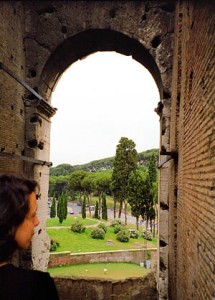 The first member of her family born in the United States, Paola grew up in Connecticut in a household that was more Italian than American. Listening to opera, surrounded by friends and family who only spoke Italian (it was her first language), and eating the finest food prepared by her nonna and parents gave her a total immersion in this culture, which continued with her art studies in Urbino and Florence. Add to that her training and experience leading tours for Rick Steves when she lived in Seattle…and the result is Andiamo Tours! Since 2007 Paola has shown hundreds of travelers the wonders of Italy, and would love to help you experience a personal and authentic side of this captivating country on our (very) small group tours to Italy.
"It is never boring, and enchantingly beautiful. Italy is in my blood."
Andiamo Tours specializes in providing vacations and ancestry tours for small groups (8 to 16 people) to all regions of Italy. These custom itineraries have been personally created for you to experience the real Italy– less big crowded cities, more small peaceful villages. Affordable and relaxed, Andiamo Tours are designed for people who want to experience Italy as a local.
Choose from Four Itineraries
Currently on offer are a 14-day Italian Heritage Tour of central and southern Italy, starting with 3 nights in Rome and includes  Tuscany's Val d'Orcia, Montepulciano, Montalcino, Siena, Orvieto, Assisi, Deruta, Benevento, Pietrelcina, and ends with 4 nights on the Amalfi Coast including Positano, Amalfi, Ravello, Maiori, Pompeii and Paestum. A relaxing combination of big cities and small villages to give you a feel for how Italians really live.
You can also explore northern Italy on our 11-day Dolce Vita Food + Wine Tour. Join us on a Slow Food tour of Italy beginning in Bologna. Capital of the Emilia-Romagna region and home to the oldest university in the western world it has a vibrant historic center and boasts some of the best cuisine in Italy. The region that gives us prosciutto, parmigiano, mortadella, tortellini and balsamic vinegar is a true culinary capital. Come on a trip which takes you wine-tasting in Tuscany, truffle hunting in Piemonte for the prized white truffle, and includes Parma, Florence, Lucca, the Cinque Terre, Alba, and enchanting Lake Orta. BACK AGAIN this year– 4 day Venice pre-tour extension from Oct 15-18.
Our Sicily Tour is an 11-day loop of this sunny island which will take you through Sicily past and present, from Palermo's colorful street markets through the ancient Valley of the Temples. We'll enjoy a wine-tasting in lovely Marsala and learn how to make a typical Sicilian dish at the home of a local family. Highlights include Palermo, Taormina, Syracuse, Modica, Agrigento, Villa Romana, Monreale, Erice, and the salt flats of Trapani.
Our newest tour runs again on May 3 – 16, a 14-day tour called Secrets of the South. It covers the regions of Puglia, Calabria, and Basilicata – three of Italy's best-kept secrets. They are the southernmost part of Italy, from the heel to the toe of the Italian boot. This is a wonderfully authentic area where tourism is just beginning to flourish. We'll explore beautiful hill towns, stunning beaches, and experience the warmth of the locals ready to welcome you. From the fairytale-like 'trulli' of Alberobello to the cave-dwellings of Matera, the rich history of this area will impress you. The delicious wines and cuisine from these regions will delight you. Highlights include Bari, Lecce, Castel del Monte, Alberobello, Matera, Locorotondo, Scilla, Tropea, Reggio Calabria. Call for details, 888-313-6380 or email info@andiamotours.com
We personally research and create these custom itineraries, thus making them unique and a great value at the same time. It's an owner-operated company with a simple philosophy: Create and deliver the trip of a lifetime for those seeking a genuine travel experience in Italy.
Do you have a small group of twelve or more people?
You can create your own dream vacation with favorite destinations included. Travel when and where you'd like to go. Call us for a quote.
Check out our facebook page for more photos of recent tours.
If you have any questions about our tours, please call Paola toll-free 888-313-6380
or email info@andiamotours.com

Grazie!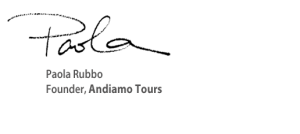 New Haven, CT