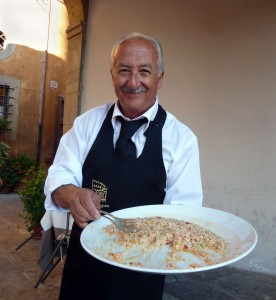 Cooking is considered an art in Italy, and a long tradition of handing down recipes true to their regional roots makes Italians fiercely proud of their culinary heritage.
Every region has its own palette of flavors reflecting the unique characteristics of its land, climate and culture. Both of my parents were excellent cooks. My mother, from Rome, made a Roman version of certain dishes (or at times a Marchegiano version, where her parents were from) while my father, from a small village near Benevento, would make his region's version of the same dish. Added to this was the fact that my father lived in Florence for 20 years, thus adopting Tuscan recipes into his repertoire. And the endless 'discussions' at home, at high volume,  revolved around which version was better! That's just one example of the personal pride that is involved in all areas of Italian life, and exemplified best in its cuisine. Ask anyone who has been there– you haven't had true Italian food until you've experienced it in the place where it originated.
Bring your appetite to our upcoming DolceVitaly Food Tour, where you will travel through multiple regions of northern Italy.  See, and taste, for yourself the surprising diversity of dishes with recipes that have been passed down for generations. Along the way we'll stop at a Parmigiano Reggiano cheese farm to witness the production of this fine product, which has remained unchanged for eight centuries. Then we drive through the beautiful landscape of Tuscany and visit a local vineyard to savor some of their Chianti. In Piemonte, renowned for its Barolo wines and white truffles, we'll learn about the international Slow Food movement, founded here in 1986. And in Emilia-Romagna, possibly Italy's most important food region, we'll learn how to make pasta from the best and pay homage to Parmigiano cheese, prosciutto, and balsamic vinegar as you've never experienced it. And to get a literal feel for the food quality this area is known for, we'll partake in a hands-on lesson in making pasta in the region where even Italians agree some of the best pasta is made– Emilia-Romagna. Andiamo!
Then there was that 4-hour lunch in Montepulciano years ago on our Heritage Tour… so you might want to check that one out too!